Student Accommodation Options Abroad – Part 2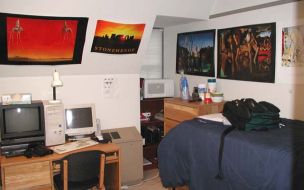 In this post, the second in a series on student's options on living abroad, we will be taking a look at the both loved and hated student dormitory.
The Pros
There are a lot of benefits that come form staying in a dormitory. The probably greatest benefit is the fact that integration into the student body becomes a lot easier if you are living with other students.
The dormitory will often be operated either by the school you are visiting, or at least be administrated to some degree in cooperation with the school. Since this is most often the case the international offices or exchange program coordinators at your destination will help you find a placement.
Dorm's are often also very cheap alternatives to getting you're own flat. Dormitories also often a lot more freedom, than for example a homestay.
Dorms will include internet access a lot of the time, most often through the university or school network. Although, an Internet connection is no guarantee so checking before you decide on your accommodation option, this might be something you would like to check.
The Cons
A dormitory is not a five star hotel. Depending on the country you will be going to the type of dorm will vary – but shared kitchen, shared bathroom and shared common room are the norm rather than the exception. The level of courtesy you need to show the other student you will be living with increases with the number of facilities that need to be shared and the number of students sharing them.
A dorm is a cramped space – or at least the room you get to stay in. The kitchen and other common areas are usually a lot larger. If you need a quiet study environment, then the best thing to to is to plan on spending a lot of time in the university or school library.
The Choice
It's hard to say whether the dorm is the right choice for you. The best thing to do is to weigh the options and consider what you value more.
If you are unsure of what would be a good idea, then why not try and read up on some other students experiences form staying in dormitories. There are posts with tips on how to live with a roomate, what the food is like in a dorm, staying in a dorm or just finding the right place.
image credit: wikipedia